Hello. My name is David Miller.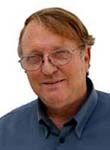 I'm a Houston native, Houston artist, and Houston Heights resident.
This site is for mostly local artists and photographers wishing to print their work on archival art material using large format digital printing technology.
Since 2001 I've had my own Epson printers, and I currently use an Epson Stylus Pro 9600. My standard media are Epson textured fine art papers, Epson canvas, and Picasso watercolor paper. Other media can be ordered on request.
Giclees are now the standard for both high-quality reproductions of work done in other media as well as original digital artworks printed from digital files. Unlike with other print technologies these prints can be printed one at at time "on demand" as opposed to expensive editions as was the case with commercial lithographic editions.
Please contact me to discuss your artistic needs and projects.